COMING SOON
2nd generation Activity tracker – Perfected for professionals
Activ8 second generation wearable activity tracker is the ultimate physical activity tracker for lifestyle, research, studies and education. With Activ8 Gen 2, you can seamlessly monitor and record physical activity data with ease and precision. With all the insights gained over the previous years, this activity tracker has been enhanced to become the ideal solution for professional applications.
Recordings Upto 5 Weeks
Our advanced technology allows Activ8 2nd generation to capture and store up to 6 weeks of physical activity data using an 8 Mbyte internal memory.
An extended memory variant will be available soon for research purposes, featuring a 256 MByte capacity specifically designed for capturing and storing raw data over extended durations.
Rechargable
The Activ8 2nd generation activity tracker utilizes a rechargeable battery with a capacity of 140mAhr, which is 50% larger than the battery in the previous Activ8 model.
Charging can be conveniently performed through the micro-USB connector using a USB charger or the Activ8 docking station, capable of accommodating up to 5 trackers simultaneously.
Direct & Easy Access
Accessing your measurement data has never been easier. Simply download your recordings from the Activ8 activity tracker and retrieve comprehensive data insights from the convenience of your local computer using the supplied Activ8 software application.
No Cloud. Simple & Secure.
After downloading a recording from your Activ8 activity tracker to your local computer the measurement data (csv format) is directly accessible for further processing in third party tools. Rest assured, your data remains confidential as we prioritize your privacy by eliminating cloud storage.
IP67 Waterproof
With its impressive IP67 waterproof rating, this tracker is built to endure even the harshest conditions, ensuring reliable performance and durability.
Best in class automatic activity recognition
Activ8 offers a groundbreaking feature – the ability to automatically classify the user's daily activities, providing a detailed minute-by-minute overview of their every move. This unprecedented insight into a person's daily life reveals precisely when and how long they were sitting, standing, walking, cycling, or running, without the need for manual confirmation. The classification process is fully automated, delivering accurate results effortlessly.
Accurate step counting
Experience precise step counting with Activ8, a step counter validated by Erasmus Medical Center. Whether you have a steady and firm gait pattern or a more fragile one, Activ8 ensures accurate step tracking for all users. Obtain crystal-clear insights into the fitness and mobility of elderly individuals and other user groups through this valuable information.
Use as Sleep tracker
Transform the Activ8 activity tracker into a versatile sleep tracker by placing it on the chest. Gain valuable insights into a user's movements throughout the night, capturing data on positions such as lying on the back (supine), on the belly (prone), or on the sides. This invaluable information offers deep analysis of sleeping patterns and behaviors.
Additionally, 2M offers full contactless bedsensor solutions, enabling seamless tracking without direct physical contact. For further details, reach out to 2M using the provided contact form.
Customizable user interface
The Activ8 activity tracker features a user-friendly button and five programmable RGB light indicators that provide real-time information on wireless connectivity status, battery level, and the user's activity results in all possible color combinations. Furthermore, the device can be equipped to deliver vibro-tactile feedback, ensuring effective alerts and notifications.
For OEM projects, the user interface can be completely tailored to meet your specific requirements.
Pocket. Legstrap. Patch. Watch
For automatic activity recognition, the Activ8 tracker has to be worn on the upper leg. There are various options for doing so. The least intrusive method involves placing the activity tracker in a pocket, although for the highest accuracy, we highly recommend using a leg strap or Activ8 patch.
The advantage of using a patch lies in its consistent placement throughout the entire measurement period, eliminating the need for users to think about it constantly. Moreover, the patch allows for prolonged measurements without any additional precautions during showering, ensuring a hassle-free experience.
certification
Activ8 is CE certified for non-medical use. Should you require it, we offer the option to obtain Medical Device certification or certification for countries beyond Europe upon request.
More information
Benefits
Automatic activity classification
Non-wear, sitting, standing, walking, cycling or running
Accurate & validated
Validated and proven to be accurate for healthy people and specific groups.
Energy Expenditure (EE)
Energy expenditure measurements in kCal or MET
Easy to use
Simple application to start/stop and visualise measurements. All recording data remains local. Set movement target with clear feedback on the device.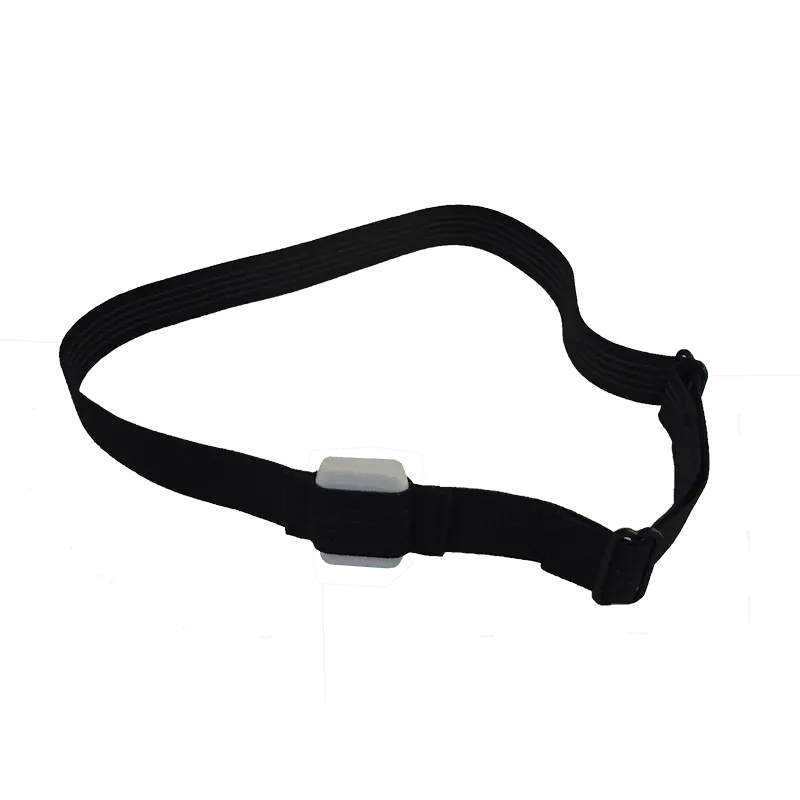 Activity or Sleep tracking
The same solution can be used as activity tracker when worn on the upper leg or sleep tracker when used on the chest. Continuous monitoring for up to 35 days.
Small, lightweight
Device worn in the pocket, attached with optional legstrap or waterproof sticker
Waterproof IP67
Water and sweat proof (IP67) made of biocompatible materials.
CE certified
CE certified non-medical. Optional: Medical Device certification.
Open and straightforward integration
Activ8 is easy to integrate in third party software and projects based on open interfaces. All information is stored in CSV format which can be directly imported in Excel or Matlab
Included
QSM-220 Activ8 Professional Gen 2 Physical Activity Monitor
USB (type A) to micro USB adapter
Protection pouch
Quick Start Guide, manual
Activ8 software application(Windows 10/11)
Optional
Activ8 Legstrap
Activ8 Patch (transparant breathable upper leg device fixation)
Activ8 Charging Station (5 devices)
Storage case for 10/20/50 activity trackers
Customizations to the Activ8 software application (functionality, reporting etc.)
Multi-sensor Bluetooth connected activity & sleep monitoring or motion tracking solutions
Customized algorithms, verification and validation
System requirements
Computer with free USB port and internet connection
Supported Operating systems: Windows 10 & 11 (x64)
Downloads
coming soon
Technical Specification
Wearable Physical Activity Tracker
Algorithms – embedded
Automatic activity classification with for each activity class the movement intensity.

Activity tracking

Wear position: upper leg, validated
Activity classes:

non-wear,
sitting,
standing,
walking,
cycling,
running, high-intense sports

Sleep tracking

Wear position: chest
Activity classes:

non wear,
lying on the side (left or right),
lying supine (back),
lying prone (chest),
sedentary behaviour (sitting, standing with low intensity)
high intensity (walking, cycling, running)

Energy expenditure (validated): kCal or MET per activity class
Wearing position:

upper leg: in pocket, with leg strap or patch,
chest: with strap or patch
wrist: custom applications
Device information
Measurement data : accessible as csv file, variable epoch length: 5sec, 10sec, 30sec, 1 min, 5min
Internal sample frequency: 50Hz
Activ8 GEN2 Professional 230420
Store raw XYZ: yes (short interval, optional: long raw data storage)
Indicator: activity progress and daily target indication (can be turned off ), low battery indicator.
Technology : 3D Accelerometer, Magnetometer (optional)
Upgradability: device & software application
Activ8 GEN2 Professional 230420
User interface:

Led indicator: 5 customizable RGB LED. Show daily target.
Button: customizable function. Mark events.

Activ8 GEN2 Professional 230420
Connectivity:

Micro USB connector: charge port & data sync (Mass storage, CDC, HID interface)
Bluetooth LE 5.x

Battery : rechargeable 140mAHr lithium polymer
Operating time (fully charged): > 35 days
Charge time : < 1 hrs
Battery low / charge indicator: yes
Device dimensions [L x W x T ] : 38.9 x 24.3 x 10.2 mm
Weight: 10gram
Color: Grey
Activ8 Recording Tool
Measurement setup

User Settings: name, date of birth, gender, height & weight for Basal Metabolic Rate (rest rate) calculation
Measurement settings: epoch/interval, data format (MET, raw), wear position
Device user interface: on, off, set daily target

Measurement settings: interval 5 minutes, 1 minute, 5 seconds, MET, raw values and wearing position (upper leg, chest)
Option to record raw acceleration data
Start/stop measurement & download
Reporting: basic graphs & reports
Data format: seconds/METs or counts/raw values
Supported OS: Win 10/11 (x64)
Custom solutions, SDK and integration
Our Software Development Kit (SDK) provides a robust and comprehensive set of tools, empowering you to seamlessly integrate our cutting-edge sensors into your own connected solutions. Designed with developers and innovators in mind, our SDK offers a user-friendly and versatile platform, simplifying the process of incorporating our sensors into your existing ecosystem.
Moreover, we understand the significance of expert guidance when embarking on such integrations. That's why our dedicated team of professionals stands ready to provide top-notch support at every stage of the integration process. Whether you need assistance with API documentation, troubleshooting, or customization, our skilled support specialists are here to assist you.
By leveraging our SDK and benefiting from our professional support, you can streamline the integration of our sensors, reducing development time and costs while ensuring a seamless and efficient solution. Let us help you unlock the full potential of our technology, allowing you to focus on creating innovative products and services that will make a real impact in your industry. Together, we can pave the way for a connected future, driven by the power of our state-of-the-art sensors and your groundbreaking ideas.
Example Activ8 Integration in RISE project (pdf)